Each year, the Dragons on the Lake Dragon Boat Festival brings together more than 1,500 paddlers and spectators to the beautiful beach at Portage Lakes State Park for a day of community, camaraderie and competition. Teams of 20 paddlers compete for top honors in three different divisions: Corporate, Community and Breast Cancer Survivor (BCS). Proceeds from the event benefit the Dragon Dream Team, Ohio's first all breast cancer survivor dragon boat team.
Congratulations to our 2023 top finishers!
7 a.m. Teams Arrive at Park
7:30–8 a.m. Registration Check-in by Team Captains
8 a.m. Team Captains Meet with Race Officials
8:10 a.m. Team Warm-up
8:25 a.m. Teams Gather for Awakening of the Dragons
8:30 a.m. Opening Ceremonies
9 a.m. Round One Racing Begins
10:40 a.m. Round Two Racing
12:10 p.m. Staff Lunch/Teams Lunch at Their Convenience
12:30 p.m. Survivor Celebration and PastTime Band
1:30 p.m. Consolation Races
2:30 p.m. Championship Races
3:30 p.m. Awards and Closing Ceremonies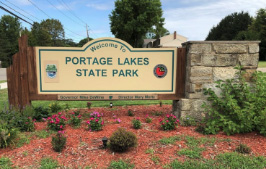 Looking for other things to do while you're in town for the race? Check out these resources for some ideas.